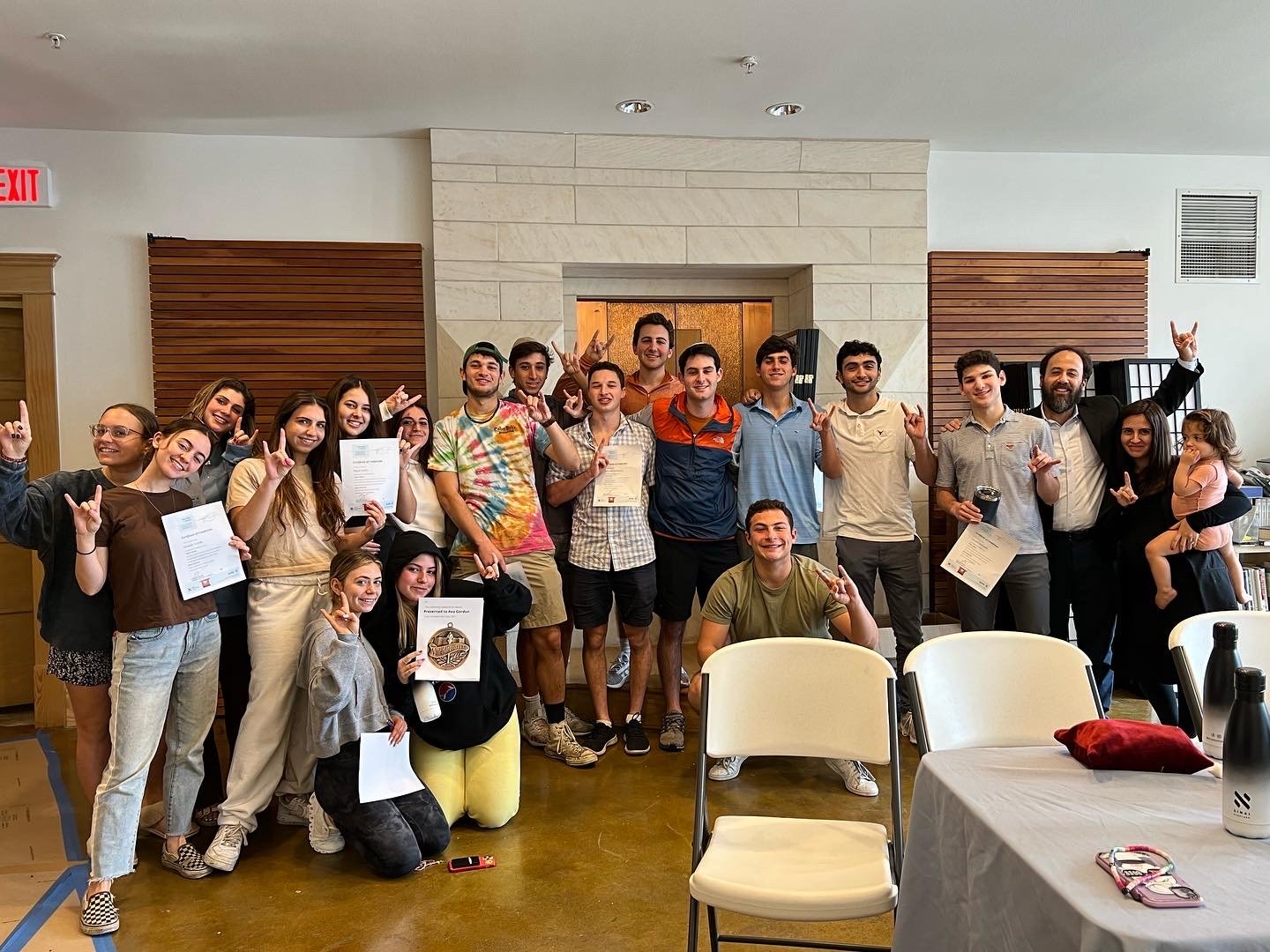 20 students

1 semester

8 meetings

Amazing discussions
1 Shabbaton at Chabad
Graduation 

$350 Stipend for completion


It's big news! Every semester, 20 of UT's top students will join a society. A society dedicated to intellectual discovery and lively discussion. A society that explores the fundamental principles of Jewish faith - in fact, of human civilization - as put forth in the Ten Commandments. A society that exists at 70+ schools across the country. The Sinai Scholars Society.

The group meets for eight classes on Tuesday nights. Students participate in the discussion, embark on a field trip, experience a Shabbat, and write a paper. And when they're done, they can meaningfully discuss Judaism's approach to such issues as faith, family, property, medical and business ethics, relationships, and much more.

Qualified students completing the course are awarded a stipend of $350, and are invited to participate in follow-up leadership events both locally and nationally.

Limited spots available.
ABOUT US
Sinai Scholars Society integrates the study of classic Jewish texts, social programming, and national networking opportunities to provide a fresh and exciting context for Jewish life and learning on the university campus. Sinai Scholars invites students to engage in an open community of study and self-discovery that will help them to become passionate, informed Jewish leaders on campus and in their respective communities.
The 3 pillars of Sinai Scholars Society:
1. DISCOVER your rich heritage
The curriculum at the Sinai Scholars Society doesn't just pick up where Hebrew school left off. Our courses present the living tradition of authentic Jewish scholarship. We address important issues in modern life in light of the ancient sources, and give you a chance to find your voice in a discussion that stretches across three millennia. Intriguing, challenging, and sophisticated, the learning experience at Sinai Scholars—both within and outside of the classroom—draws you into the pure pleasure of Torah study. More than inspiring and thoughtful, it is also fun.
2. CONNECT with other Jewish students on campus
Participants will have the chance to interact with other students across the country as well as distinguished figures from the world of business and public life as they engage in this unique prospect for personal and professional growth. Fellowship in the society continues after completion of the program, and will offer growing opportunities to interact with an ever-expanding network of fellow students and Jewish leaders across the country.
3. Become an EMPOWERED Jewish leader
Since its inception, Sinai Scholars has been changing the face of Jewish student leadership. Fellowship in the Society is for life. Even after students step off campus, Sinai Scholars continues to empower its fellows with the knowledge, skills, and abundant opportunities to help them become powerful Jewish leaders—wherever life takes them.
Already did Sinai Scholars? Continue your studies with Sinai Scholars 2.0.